Domain Names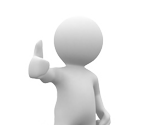 Blue River Hosting can provide you with Domain Name Registration and act as your Domain Name Registrar.
What is a Domain Name?
Domain Names are the easy way used to identify one or more IP Addresses. This Domain Name is registered with Domain Name System (DNS) servers throughout the world that translate a Domain Name into an IP Address to direct you on how to find the information you have requested.
For example, https://www.blueriverhosting.com tells your computer to connect to our server's IP Address, via the DNS servers, to find this website. If you were to type in https://www.google.com the DNS servers would then direct your computer to the appropriate server that contains the information for Google's website.
Every web server in the world has an IP Address unique to it and when you register for a Domain Name you are required to provide a DNS entry that will tell the world on what server to find your information.
How Do I Register for a Domain Name?
Blue River Hosting can provide you with help on registering your Domain Name. We will register the Domain Name for you, if it is available, and ensure that all of the settings are correct to find your website's information on our servers.
What Do You Mean: If It's Available?
Not all Domain Names are available anymore. Your desired Domain Name may be taken or unavailable because it has been registered and is currently owned by someone else.
How Can I Find Out if My Domain Name is Available?
We recommend using Whois.net to search for your Domain Name. Click here to visit their website
Should I Use .com for my Domain Name? / The .com Version of my Domain Name is Not Available, now what?
Not all names are available as .com but there are other options. These include: .net, .org, .co and .ca. The .ca domain extension is only available for Canadian corporations or citizens and is governed by the Canadian Internet Registration Authority (CIRA). More information about CIRA is available here
I Found a Domain Name That is Available, Now What?
We can help you register your domain and set up your hosting account at the same time! New Domain Names take 24 – 72 hours from Registration to being accessible from your computer. Some DNS servers update faster than others and we will help you through the process of Registering your Domain Name through to accessing your new Hosting Account.
How Much Does it Cost?
Blue River Hosting charges $25 / yr (plus applicable taxes) for your Domain Registration. There are lots of other options available to register your Domain Name throughout the world and we can provide you with the appropriate information to ensure that the DNS servers you provide during Registration is correct to locate our servers.
How Do I Get Started?
Contact our Domain Registration Team via email or use our Domain Registration form to submit your order or you can call us at 613-392-1617!
Talk with Us
We love talking to our customers and you can reach a REAL person at 613-392-1617.
Email Us
Prefer to contact us via email? Email us anytime and we'll respond to you as quickly as possible.